Infection prevention measures
IMPORTANT DATA:
Incubation period (asymptomatic patient): 5-14 days
Humans have had to deal with numerous viruses such as influenza (SARSCoV / Mers-CoV) in the past that caused severe respiratory problems, however COVID-19 is a more challenging virus. Neither vaccines nor drugs are currently available.
Routes of transmission in dental offices:
Droplet transmission by air!
Transmission through direct or indirect contact
Transmission through contact with contaminated surfaces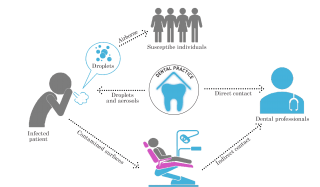 Prevention & Protection
It is very important to follow the correct triage procedure and preventive measures before, during and after treatment.
8-STEP SAFETY PROTOCOL IN THE DENTAL PRACTICE
01 DENTAL OFFICE MANAGEMENT
Common areas need to be cleaned and disinfected frequently, including handles, chairs and tables.
Introduce preventive triages as a routine procedure to measure and record the temperature of each operator and patient.
Authorized personnel should ask patients questions about their health status and contact or travel history (WHO 2020a).
Patients and carers must wear masks and shoe covers, as well as undergo a temperature measurement once they enter the dental office. They are strongly advised to disinfect their hands.
If the body temperature is above 37.3 ° C or the patient has experienced symptoms of respiratory distress in the past 14 days, the patient should be immediately quarantined and dental professionals should notify the infection control department of the case.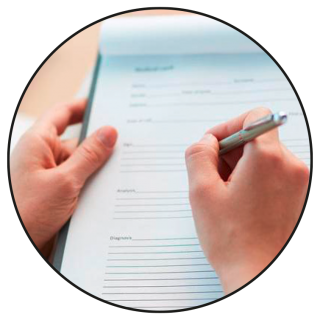 02 PATIENT MANAGEMENT
A questionnaire should be used to examine patients with potential COVID-19 infection before they sit at the unit.
Patient specific dental and medical details.
Symptoms of fever or breathing problems within the past 14 days.
Recent contact with COVID-19 positive people or any symptoms in the past 14 days.
Travel and transfer history.
History of participation in events in recent months.
Measuring the body temperature of all patients using a forehead non-contact infrared digital thermometer is highly recommended for screening.
Advice for patients:
1. Come unaccompanied (if possible) and respect the appointment time, do not arrive early or late.
2. Leave jackets, coats, bags and backpacks in the waiting room.
3. Wear masks and shoe covers.
4. Respect the social distance of at least one meter inside the waiting room.
5. Keep mobile phones and tablets out of the clinic area.
6. Wash your hands for at least 30 seconds and avoid handshaking with doctors and other operators.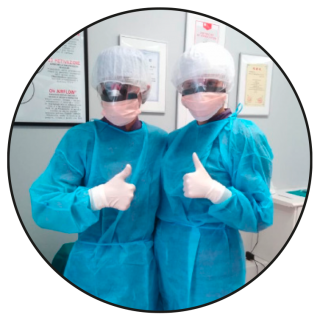 03 OPERATOR MANAGEMENT
Hand washing was regarded as the most important time and measure to reduce the risk of contamination.
Hand washing Wash your hands regularly with soap and water or a disinfectant.
Before entering the studio
Before putting on gloves
After removing the gloves
After handling non-disinfected instruments
Do not touch your face with your hands without first washing them.
Individual Protection Devices (PPE).
Leave personal items outside the office, drink a glass of water (to be hydrated during treatments carried out with PPE), use the toilet if necessary (it will not be possible to go there or remove any devices during the procedures). The use of personal protective equipment, such as face masks, gloves, disposable gowns, protective goggles and face shields, is highly recommended to protect against (potentially) infected aerosols, blood and secretions.
Do not remove the mask inside the operative area = the virus can remain suspended in the air in particles <50 microns for 30 minutes.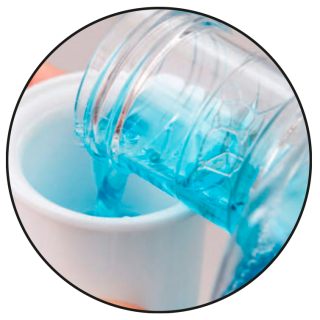 04 PRE-TREATMENT RINSE
It is well documented that pre-treatment rinsing of the mouth with a CHX A solution for 30-60 seconds reduces the bacterial load of aerosols by up to 70%. Mouthwashes containing about 1% iodine povidone solution have also been shown to be effective.
We recommend that patients gargle and rinse patients with H2O2 (1.5%) or iodiopovidone solution (1%) for 60 seconds at the start of each treatment. It is advisable to repeat this procedure, if possible after 30 minutes.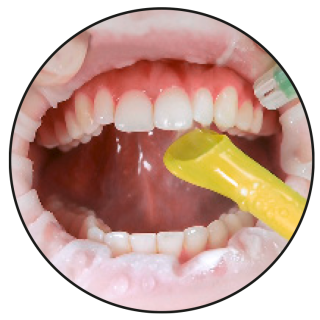 05 AEROSOL MANAGEMENT
Necessary tools and accessories when using PIEZON® PS and AIRFLOW®:
High speed vacuum cleaners (HVS)
Optragate
recommended water power as per instructions for use for PIEZON® PS and AIRFLOW®
Open the window to circulate air for 10 minutes between patients or leave it open.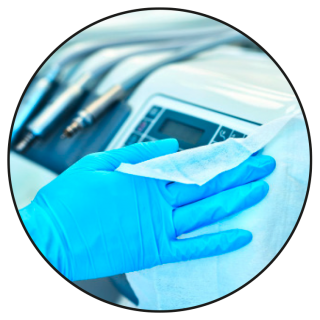 06 DISINFECTION OF SURFACES
COVID-19 can last for a few hours or up to a few days depending on the material of the surface.
Clean all instruments (rejoints, handles, tools, cords, etc …) with 65-75% ethanol or a disinfectant cloth of proven efficacy before and after each treatment.
Use an autoclaved handpiece for each patient.
Leave the alcohol solution to act for at least one minute before drying.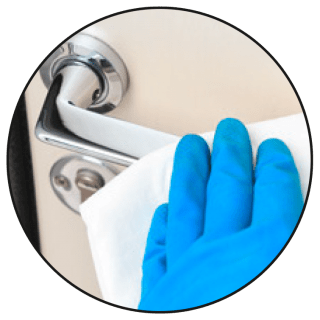 07 DISINFECTION OF THE CLINICAL CONTEXT
Common areas and tools need to be cleaned and disinfected frequently including handles, chairs and tables.
The lift must be disinfected regularly. People using the lift must use the masks correctly and avoid direct contact with buttons and other objects.
COVID-19 is sensitive to ultraviolet rays and heat, can be rendered inactive by heat with a temperature of 56 ° C for 30 minutes and by lipid solvents such as ether, 65-75% ethanol, disinfectants containing chlorine, peracetic acid and chloroform , excluding chlorhexidine.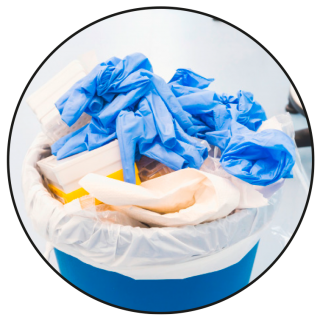 08 MANAGEMENT OF SANITARY WASTE
Instruments and products must be previously treated, washed, sterilized and properly stored. A yellow bag and the double knot for special waste must be used.